Tash Hills Delivers New Single Titled 'What A Good Night'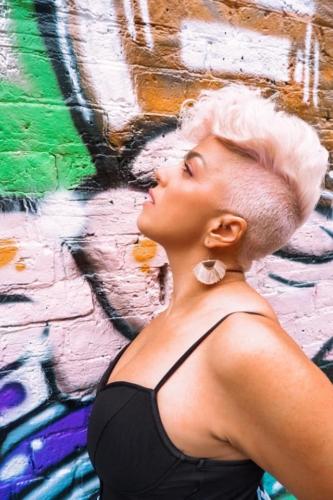 Portsmouth native Tash Alladin popularly known as Tash Hills is a British-South American Singer and Songwriter. Tash grew up in the Waterlooville area in Hampshire. At ages 5-11 she went to Hart Plain First & Middle School and then aged 12-16 she went onto Cowplain Comprehensive to do her GCSEs. She then furthered her education at Southdown's College & studied a BTEC in Performing Arts (Music) for 2 years and then went on and did a year at Chichester College studying Jazz music! Her final years of study were spent at Southampton University studying, no surprises; Music for 3 years! At the age of 16, Tash joined her first band, called Innervisions (all hail Stevie Wonder!) after being inspired by her Dad's music collection.
Loving Jazz, Funk, Soul, Pop & Rock gives Tash the passion to make her music different and stand on its own with her 'signature' sound. In August 2020 with the help of Ashley Hills her partner, Samuel Pack, and her producer George Holliday, she released her first single titled Stepping on Out and has since released 4 singles. She brings on board her amazingly talented friends who are musicians and who have played on each record. As Tash Hills is only a year old, there are lots of exciting things coming up with different producers and remixers for the end of 2021/2022 but it's all hush at the moment!
Tash Hills to date has had 216,750 plays on Spotify alone for all 4 singles! First Breath was put on a Spotify 'Nu-Funk Editorial' (the holy grail for all aspiring indie artists!) playlist the day it was released at Number 13 and is still in there today receiving plays 10 months on! As well as that, First Breath was then put on DJ Taro & J Waves Rhythm and Groove 'Editorial' Playlist. Since then, she has enjoyed all other releases featuring on the Rhythm and Groove Playlist and being played on J-Wave giving her an amazing following in Japan. To add to her success, Tash's music has been supported by BBC Introducing, with her singles receiving airplay and a feature interview spot on the show.
Tash Hills brings her signature Nu-Funk sound with her latest offering 'What A Good Night'. Opening with spoken rap, Tash chants 'I've been waiting, it's been too long, for someone to be here, till the light of dawn'. The funk groove and deep synth bassline then hit you full throttle! With fresh horns, a full string section, and big vocals; this song tells a story of how to express yourself and be thankful for the one you love. It's about never taking anyone for granted and second chances! Celebrate your love and passion and live every day like it's your last!
Everyone knows this music business is scary and very difficult to break through as an Unsigned Artist, but Tash says her inspiration and motivation come from her family, and she looks up to the singer Omar. She says his voice is like no other and he epitomizes British Soul Music. She loves listening to music, going to gigs, riding her bike & roller-skating!
Video Vibe Playlist (ViviPlay) is an online platform meant to help push music videos of artists. The mission is to help artists build their youtube channel with organic subscribers and organic views whilst earning from their monetized videos on their channel.